This morning I was sitting down to a peaceful worship. The birds were quietly singing while a gentle rain fell. All of a sudden I hear this loud squeaking outside our kitchen window. I hopped up to view a most disturbing... unwelcome site. A hawk ( I think a Broad-winged ) stood right below my bird feeder with my friend, a Red-bellied Woodpecker pinned to the ground. "Oh no!" is all that could escape my mouth as I stood there in shock. The hawk turned its head up an glared at me for a moment, then took off into the woods across that street with the woodpecker's scream fading into silence.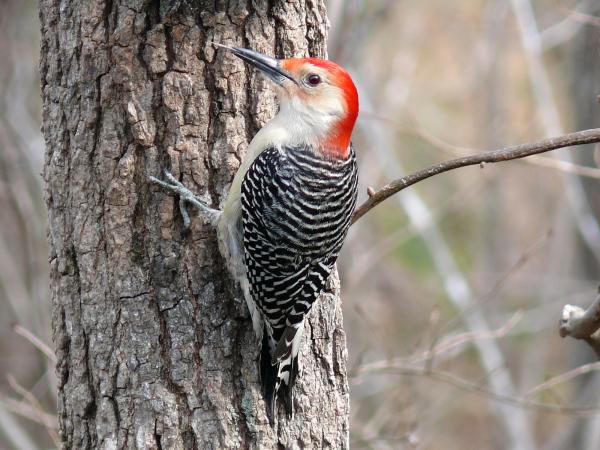 I was so mad! I stood there frustrated not being able to do anything. This woodpecker had become a regular to our bird feeder gradually growing more comfortable with our presence. Rather than protesting our presence he was beginning to fly in and cautiously feed while we were nearby. Just the other day Noah and I were out in our garden plot while he came into the nearby peach trees, then made the decision that we weren't so bad after all and flew in closer. As you can imagine we grew quite fond of this beautiful creature.
I went back to my seat and pondered what just happened. I realized the sad effects of sin on the animal kingdom. As sin entered the scene in Genesis, so entered this perversion in the order of things. Seeking comfort from the promises of restoration I turned to Isaiah 65... particularly verse 25:
The wolf and the lamb shall feed together, and the lion shall eat straw like the bullock: and dust shall be the serpent's meat. They shall not hurt nor destroy in all my holy mountain, saith the LORD. (Isa 65:25)
I look forward to the day when this so called circle of life ceases to exist and TRUE balance is brought back to nature, humanity, and this place we call home... earth.
And I saw a new heaven and a new earth: for the first heaven and the first earth were passed away; and there was no more sea. And I John saw the holy city, new Jerusalem, coming down from God out of heaven, prepared as a bride adorned for her husband. And I heard a great voice out of heaven saying, Behold, the tabernacle of God is with men, and he will dwell with them, and they shall be his people, and God himself shall be with them, and be their God. And God shall wipe away all tears from their eyes; and there shall be no more death, neither sorrow, nor crying, neither shall there be any more pain: for the former things are passed away. (Rev 21:1-4)
I appreciate the free-will that our all-powerful God has given to us. I despise what rebellion to the life-giver has done to this planet. I am also thankful that God has promised that it won't be like this forever. The same God who intelligently designed the original world and set it into motion will destroy evil and restore this planet back to the original intended harmony. I look forward to this day.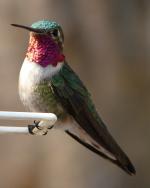 Even now God has given me encouragement and peace. As I was writing this, I got up for a stretch and looked out in our front yard. To my extreme delight our first Ruby-throated Hummingbird has arrived. He buzzed around the empty nectar feeder. It was soon filled.
Nature is kind of like people. We can see the bad or we can look for the good. This morning I saw a great tragedy in my own front yard. I am sad by this, but I trust that death will be no more. Until restoration arrives I will strive to look for the rose amongst the thorns.